masami akita
wattle
(eeaoa038) picture disc LP

Elevator Bath's series of picture disc LPs (each record being adorned with full-color artwork by the recording artist) comes to its conclusion with a top-notch new release from the great Masami Akita.

Wattle is a new, two-part composition featuring Akita's traditional soup of unidentifiable metallic clanging, crushing feedback, jagged white noise, and various effects. It does not disappoint. There are no drums, no guitars, no vocals; just scorching electronic mayhem of the highest quality.

The colorful images here are based on photographs shot and subtly manipulated by Masami Akita, who sends the following message:
"Turkey is beautiful animal and do not eat them."
Agreed.
Masami Akita is, of course, the artist behind the seminal, vegan, straight edge, noise project, Merzbow. He lives in Tokyo.

This picture disc LP has been released in an edition of 270 copies. Every copy purchased directly from Elevator Bath will include a download code for high quality files of the entire audio content of this LP.

Track list:
wattle (part 1)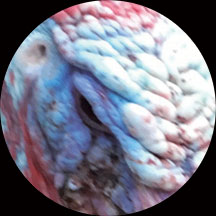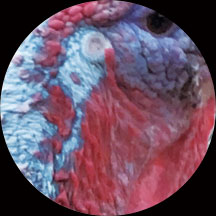 HOLY SHIT: MASAMI AKITA is MERZBOW! I knew that but forgot at first, until the first skull-skrapes of "Wattle" sent me shivering into the night with a shattered face and ears like beaten up pieces of circus-peanut marshmallow candy. I haven't heard his noisome brand of entertainment since that disgusting collaboration with Racebannon (Merzbannon, to be precise) that saw the scene shaman taking apart the Indiana mainstay at the seams. There's nothing more disturbing than a Merzbow, er, Akita composition, and the thing is, he's only getting better. "Wattle" is like a love letter to the continued vitality of NOIZE in the age of trip-____ and other outgrowths that seem more unfortunate than progressive. Not for a second do I pine for a "rippin'" techno scrotum-bobber beat, nor a trendy modular synth solo. What's not to love when the world is on fire and you're aurally fumbling for a lightswitch in the dark? It would be so easy for Merzbizzle to stray from the strictly-business path he's carved for himself in the dead corpse of the genre he helped invent, so LOGICAL even for Akita to allow himself just a bit of sun, a glint of rhythm, a flutter of up-front vocals, even. And that's exactly why he didn't bother with any of those things where "Wattle" is concerned. Sheets of distorted, restless ice surge ahead even as they're breaking up and sucking themselves into a sea of scream, a faint cry for help rising above the din just long enough to be snuffed out like a perceived-unworthy life. It's a sick business, this, but somebody's gotta do it, and I'm glad in this case that somebody's Akita because he's purer than Prurient and prolific to the proportions of a Zappa or Sun Ra. The difference being, he's all alone in the shadows, with no one to answer to, no entourages or band members to satiate. That's how it's done. "Wattle" is not sold out as I'm writing this but there's no way it's going to last so check the Elevator Bath site immediately. I'll wait.
- Grant Purdum, Tiny Mixtapes / Cerberus

Here we have [a] new picture disc by mister Merzbow, but this around he works under his own name, Masami Akita. I must admit I never know when he wears his Merzbow cap and how it differs from the music he releases under his own name. The music here, two times twenty minutes of noise in the best Merzbow tradition, so what exactly is the difference? Apparently this time around Akita doesn't use any drums, guitars or vocals and solely concentrates on using feedback and his rainbow coloured collection of guitar pedals, which results in that loud, piercing music we know so well, following his 200+ (or hell, maybe 300 by now?) releases as Merzbow. I am no longer the big fan boy as I used to be (that happens), and so I no longer am obtaining every new release, but whenever something new comes along I listen with great interest and judge what I get served. The duets with drums might not really be my thing, but this one, harking back it seems to the early 90s period ('Rainbow Electronics'), I thought was very good again. Despite all the furious sound layering going on, the Chinese wall of sound approach, Akita's music remains very minimal I would think. It goes on and on, but doesn't divert much from within. There isn't a quick break, a sudden departure or a rough cut; it is like being drowned in a pool of noise, and it feels good.
- Frans de Waard, Vital Weekly